BITCOIN
Grayscale May Liquidate 600,000 BTC Holdings Following SEC Opposition To ETF
Grayscale Investments may offer to buy up to 20% of Grayscale Bitcoin Trust  (GBTC) shares. This is a move the company hopes will close the gap between the GBTC share price and the company's underlying Bitcoin holdings.
Grayscale Can't Act Independent Of Investors
The Wall Street Journal released a letter by Grayscale CEO Michael Sonnenshein urging that Grayscale would consider issuing a tender offer should the Security and Exchange Commission (SEC) and shareholders give their approval. Being a close-ended fund, GBTC shareholders can only liquidate their holdings on the open market.
Under the Williams Act (part of the Securities Exchange Act of 1934) that governs tender offers in the US, an investor tendering for a security must disclose their source of funds, legal agreements related to the offer, and reasons for the offer.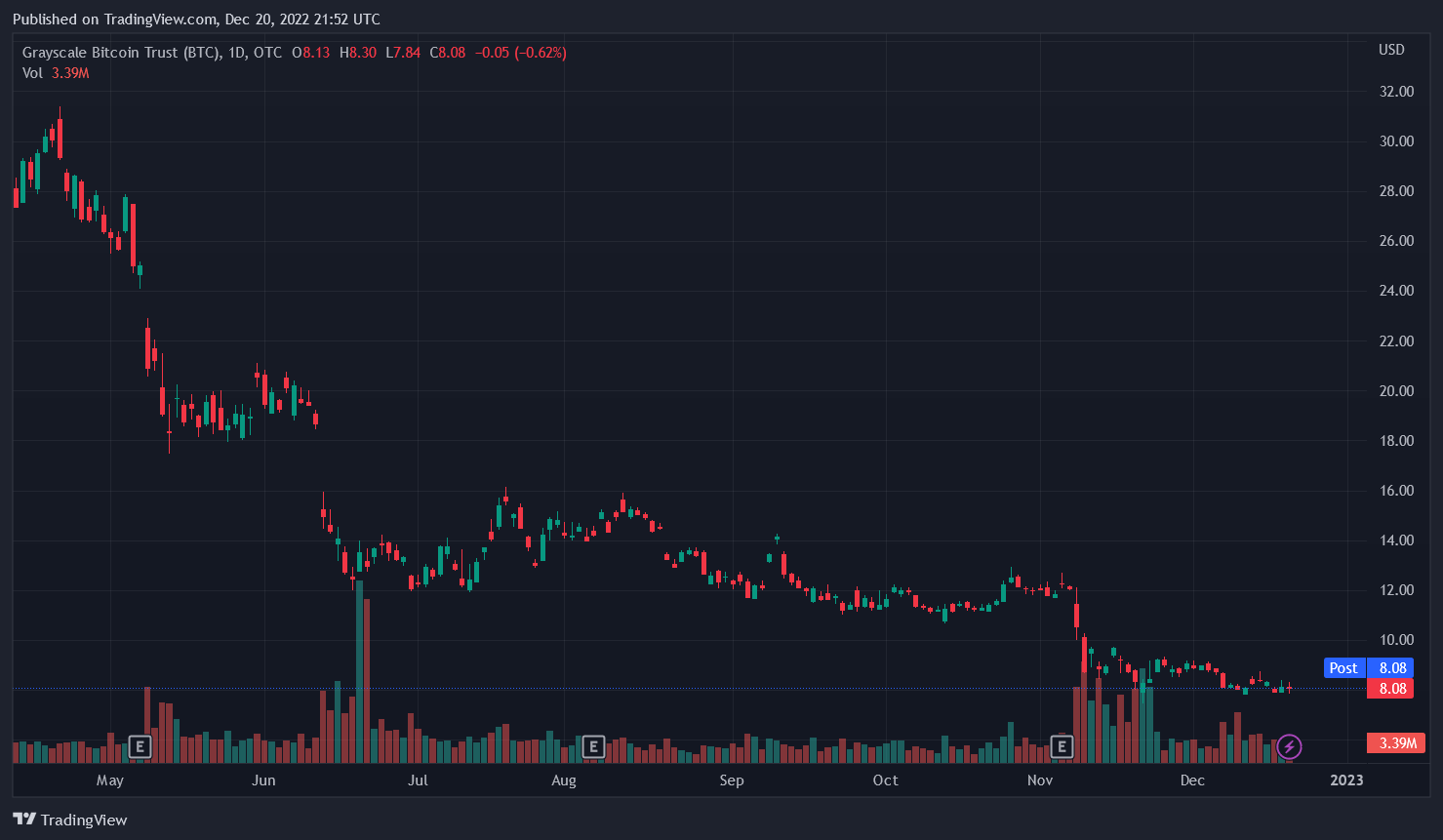 GBTC trades at $8.08 on the 24-hour chart. Source: TradingView
If the company cannot return GBTC shareholders funds, it will continue to offer the tender until it's converted to an ETF.
Sonnenshein wrote to investors:
In the event we are unsuccessful in pursuing options for returning a portion of the capital to shareholders, we do not currently intend to dissolve GBTC, but would instead continue to operate GBTC without an ongoing redemption program until we are successful in converting it to a spot bitcoin ETF.
Grayscale is currently embroiled in a lawsuit with the SEC after its application to convert GBTC to a spot Bitcoin ETF on June 29, 2022.
The letter by the CEO was an attempt to ease shareholder concerns after a turbulent few months across the crypto market.
ETF Conversion Seems To Be Only Option
As it stands, Grayscale doesn't have a specific timeline for when it may explore other options apart from the ETF conversion.
The lawsuit seems to be a long-drawn battle. Grayscale filed its opening brief against the SEC on Oct. 11, 2022. In response, SEC filed a brief on Dec. 13, 2022 denying Grayscale's accusations that its rejection was discriminatory and arbitrary.
The firm has until Jan. 13, 2023 to respond. Afterwards, a three-judge panel will be selected to listen to oral arguments and rule on the case.
Grayscale's Bitcoin Trust has roughly $10.78 billion or 633,000 BTC in assets under management. The fund has failed to meet its goal, and it's currently changing hands at a 48.8% discount to Bitcoin.

Source: YCharts
Sonnenshein didn't clarify if the business may later sell off its Bitcoin holdings. However, a market dump like Grayscale could see Bitcoin crashin to a fresh yearly low.
Grayscale selling off its Bitcoin stash could also drive down confidence in crypto as significant liquidations for those engaged in Bitcoin derivatives markets. This would hurt crypto volumes, and send a bearish crypto market further down.
Featured image from Finbold, charts from Ycharts, and TradingView.com
Source link