BITCOIN
Large Cap Coins Touch December Lows
As Bitcoin hits new lows at year-end, other large-cap altcoins have followed suit. There seems to be no love for crypto this year-end, as Santa has refused to show up.
General Crypto Market Cap Plunges
As it stands, crypto traders and investors seemed to have their hands up in resignation. Trading volume across major exchanges has been highly compressed. The general market capitalization across all digital assets is down around 2.6% monthly, at $774 billion.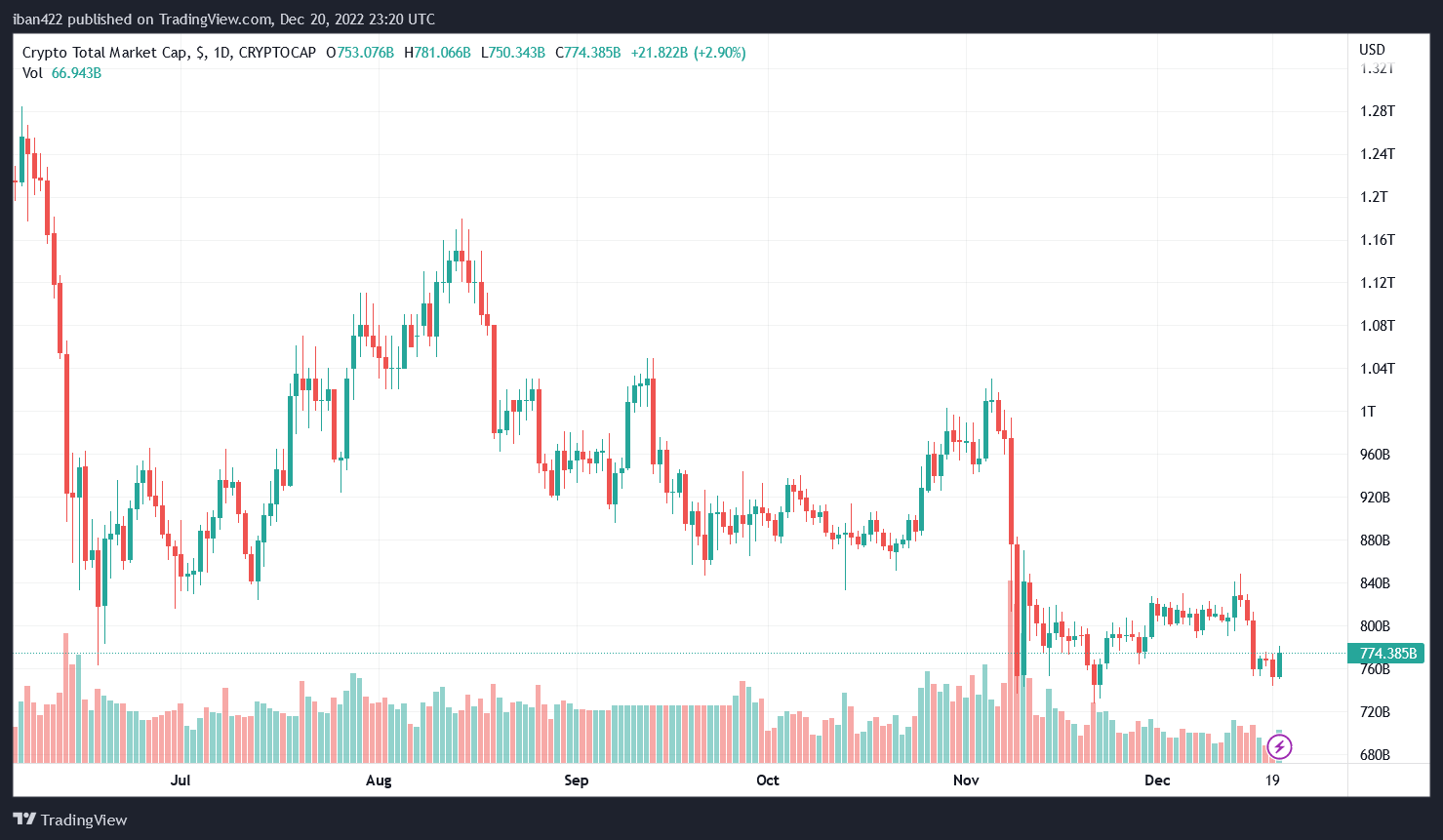 Crypto total market cap stands at $770 billion on daily chart. Source: TradingView
The Bitcoin jump to $16,800 was a faint attempt at a bullish rally. The cryptocurrency continues to experience more downside, falling to its lowest in 3 weeks.
Ethereum added 3.5% on Tuesday, having closed 130 basis points (bps) lower on Monday. The second largest crypto by market cap rose into the $1,200 region.
ETH seems to collide with higher resistance at the $1,230 level. This could be challenging with the 14-day RSI now hovering directly below a ceiling of 47,000.
The prices for Solana and Polkadot are currently trading at $12.36 (up 0.5%), $4.59 (down 0.8%), respectively. On the weekly chart, Polka Dot has decreased by 11.1% while Solana has decreased by 7.2%. During the past week, Polygon has lost 12.2%.
Talking about some of the prominent stablecoins, Tether, USD Coin, and Binance USD are trading at $1 (flat), $1 (down 0.1%), and $0.99 (flat), respectively. Terra Classic is listed at $0.00011 (down 3.78%).
Binance's BNB soared 0.2% over the last 24 hours while meme coins Shiba Inu and Dogecoin took a beating, 3.5% and 4.8% respectively.
Ripple's XRP and Litecoin (LTC) are also in the green, while Polygon (MATIC) has remained virtually unchanged
Michaël van de Poppe said that markets have been in bear territory for 19 months already. The trader pointed out that altcoins have been crashing since May 2021 despite the Solana and Polygon cycle.
"The first HF [high low] confirmed on HTF [higher-time frame] will be a massive trigger for a relief run," said Van de Poppe on Twitter.
Altcoins Seem Indecisive
Despite the plunge in Bitcoin value, altcoins have failed to flip BTC's dominance. Over the past few days, many altcoins have gradually recovered while others have continued to suffer loss. For example, the Open Network's TON lost a whopping 10.6% and gave up a lot of the gains from the past few days, when it was the market's leader in terms of price performance.
Source: Quantify Crypto
Trust wallet token (TWT) led the way, rallying by 10.81%, with Flow (FLOW) and Axie Infinity (AXS) seeing gains of 6.53% and 6.18%, respectively.
Related Reading: Bitcoin Bearish Signal: 'Mid-Term' Holders Show Signs Of Dumping
The developments come on the back of news that Binance US will be buying out the assets of Voyager in a deal worth upwards of $1 billion. The exchange has even agreed to send $10 million in advance as a good-faith transfer.
According to the press release,
The Binance.US bid aims to return crypto to customers in kind, in accordance with court-approved disbursements and platform capabilities.
Also, the Bank of Japan's announcement to lower its target range for 10-year rates to 50 basis points early in the session caused the Asian equity markets and the NASDAQ mini to decline. Prior to this, the 10-year yield range was 25 basis points away from its aim of 0%.
The S&P 500 rose by 0.10%, while the NASDAQ Index concluded the day with a 0.01% gain. Through the afternoon session, the rebound provided support for the cryptocurrency market.
Featured image from Unsplash.com, charts from TradingView.com and Quantify Crypto