BITCOIN
PancakeSwap (CAKE) Slides Below Range, Is This An Entry Point For Buyers?
PancakeSwap (CAKE) has been trading against the broad market, especially when major market movers have rallied. The coin has lost 0.8% over the last 24 hours and still depicts no decisive price action on the chart. Despite the CPI data release, the coin has remained unaffected by that development. CAKE traders are still wary of the asset's next price movement.
The technical outlook for the coin has painted a bearish picture on the chart. Although that seems to be the case, there could be a scenario in which CAKE makes a comeback. After rangebound trading for weeks, the coin has finally broken below its lower band, indicating a chance of a price appreciation. This could prove beneficial for traders who are planning to log gains from the crypto.
Risk-averse traders, however, should be careful about investing as the coin still continues to signify a further potential loss over the immediate trading sessions. The asset is still hovering around pockets of high liquidity, which could prove to be a negative point for traders. For CAKE to register further gains, the coin has to breach some vital trading levels.
PancakeSwap Price Analysis: One-Day Chart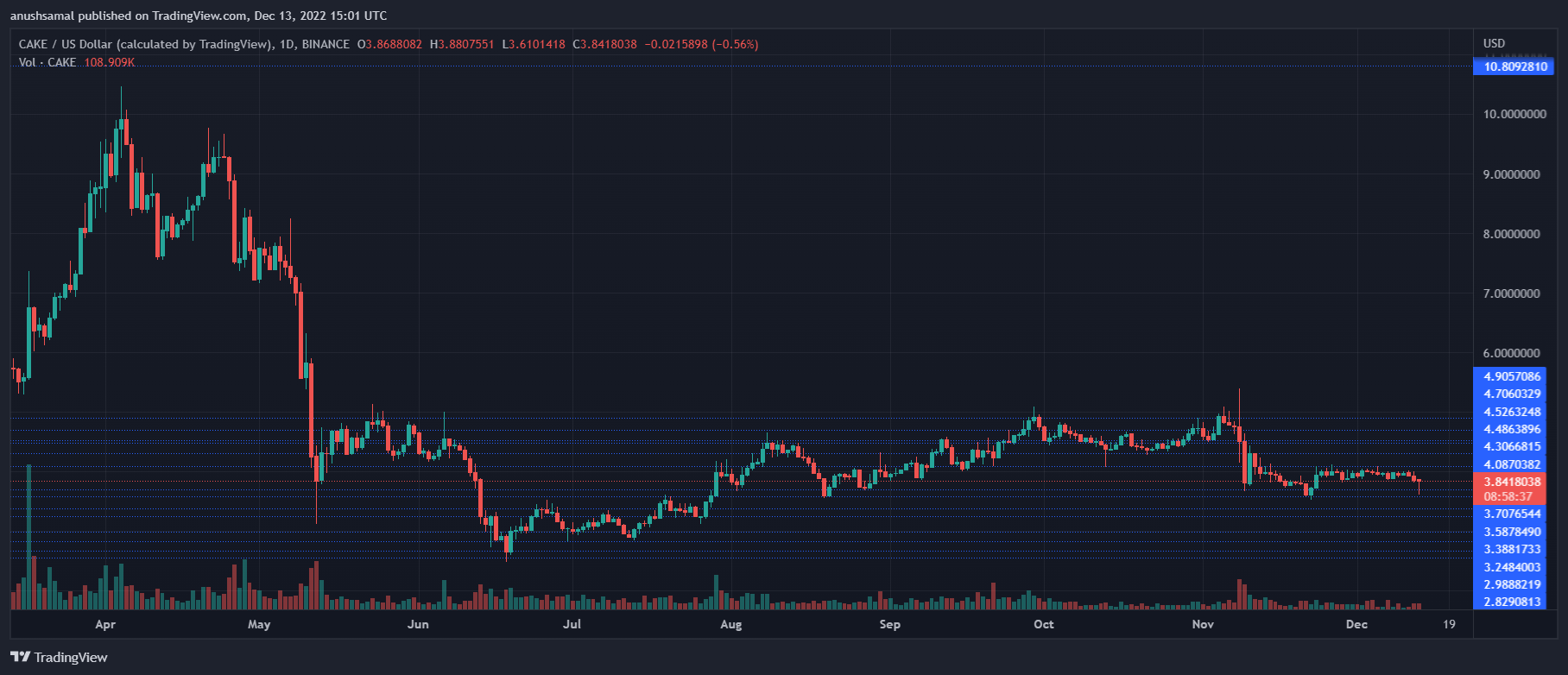 At press time, CAKE was exchanging hands for $3.80. The coin just fell below the lower band of the restricted price zone. CAKE was sandwiched between the $4.20 and $3.90 price bands, which represented increased selling. The coin's immediate price ceiling was $4.08; a move above that could cause the coin to revisit $4.30.
Breaching the $4.30 mark will clear the path for the altcoin to reach $4.90. Over the immediate trading sessions, however, the coin is expected to fall to $3.40 before it bounces back. The aforementioned level could act as an entry point for buyers. The amount of CAKE traded in the last session remained red, signifying bearish strength.
CAKE Technical Analysis

The coin has remained under the power of sellers for most of this month. The recent drop in price has pushed CAKE further into the selling zone. The Relative Strength Index was below 40, indicating a strong selling force.
Further selling pressure could cause CAKE to fall below $3.40 and then to $4.30, resulting in a 26% rally. CAKE fell below the 20-Simple Moving Average line due to low buyer demand, indicating that sellers were driving the price momentum at press time.

Corroborating that CAKE might start to register gains, the Parabolic SAR sided with the same observation. Parabolic SAR determines the price direction, and the dotted lines below the candlesticks reflect incoming bullishness for the coin.
On the contrary, though, the Awesome Oscillator that exhibits price momentum turned red, marking a sell signal for the coin. The signal was, however, declining in strength.
Source link