Learn
ViaBTC|The Silver to Bitcoin's Gold: The Evolution of LTC
Gold has been used as a form of currency since the dawn of civilization. Throughout human history, it has always been recognized as one of the most precious metals. Silver, another precious metal, has played similar roles. Thanks to their scarcity, durability, and ability to hedge against inflation, gold and silver are considered excellent portfolios for hedging and investment. In the emerging field of crypto finance, Bitcoin and Litecoin, two of the oldest cryptos, are considered the digital equivalent of gold and silver by crypto enthusiasts.
Bitcoin is often referred to as digital gold. As the first crypto, BTC provided plenty of inspiration and technical formulas for all latecomers. Yet, as the network is frequently congested, with slow confirmation and expensive fees, some developers attempted to create other cryptos, and Litecoin emerged as the best-known alternative to Bitcoin.
According to The Wall Street Journal, EDX Markets, a new crypto exchange backed by Citadel, Fidelity Investments, and GSR Capital, has officially launched its trading services that cover four cryptos, including Litecoin. This demonstrates the massive clout of Litecoin in the current crypto landscape. Today, Litecoin has become one of the most widely accepted cryptos globally, yet its low-key culture often leads to a lack of understanding among the public.
The Birth of LTC
Back in 2011, Charlie Lee, like many other geeks, was obsessed with BTC mining. However, Charlie quickly noticed that the slow transactions were weighing down the network, so he decided to improve Bitcoin and develop a lightweight alternative. On October 8, 2011, Litecoin was launched, along with its genesis block. Five days later, the Litecoin network officially went live.
Litecoin, based on Bitcoin's code, aimed to address all the issues that plagued Bitcoin at the time. Compared to Bitcoin, Litecoin has significant advantages in terms of transaction costs, transaction speeds, and resource consumption. One of the most prominent features of Litecoin is its faster confirmation speed, making it more practical for real-world transactions.
The LTC Evolution
In November 2013, the LTC price suddenly soared to its all-time high. That's also the year when top exchanges, including Mt. Gox and OKCoin, actively listed LTC trading pairs.
On August 26, 2015, Litecoin went through its first halving, cutting block rewards from 50 LTC to 25 LTC. In the following year, the Litecoin team focused on improving the crypto and introduced many new features and upgrades.
On July 3, 2016, the Litecoin Core development team and the Litecoin Association co-released the 2016 Litecoin Road Map, which announced the upcoming release of a new version that includes features like Segregated Witness (SegWit), Lightning Network, and smart contracts. Litecoin was the first testing ground for these features that sparked intense debates within the Bitcoin community.
In 2017, Litecoin saw several major upgrades, and SegWit was officially activated on the Litecoin network. The upgrade allowed Litecoin to scale its transaction volume better and introduced additional privacy features. However, at the end of the year, Litecoin founder Charlie Lee said that he had sold all his LTC holdings to avoid "conflicts of interest". Following his bold statement, the LTC price took a plunge.
The following year, Litecoin also rolled out the Lightning Network. A scalable payment protocol allowing for near real-time, low-cost, peer-to-peer transactions.
On August 5, 2019, Litecoin experienced its second halving, slashing block rewards from 25 LTC to 12.5 LTC. In November of the same year, Litecoin introduced a proposal for the MimbleWimble (MWEB) privacy upgrade. Aiming to enable confidential transactions between senders and receivers.
In April 2021, the Litecoin Foundation announced that the global payment platform PayPal would allow users to make payments with LTC. By May of the same year, the LTC price jumped to $410.26, an all-time high.
In May 2022, the Litecoin Foundation announced the MWEB upgrade, enabling privacy-focused network transactions. Thus making LTC more secure, private, and scalable.
In early 2023, software engineer Casey Rodarmor developed the Ordinals protocol and released it on the Bitcoin mainnet. Another software engineer, Anthony Guerrera, integrated Ordinals into Litecoin, sparking a wave of enthusiasm for LRC-20 tokens.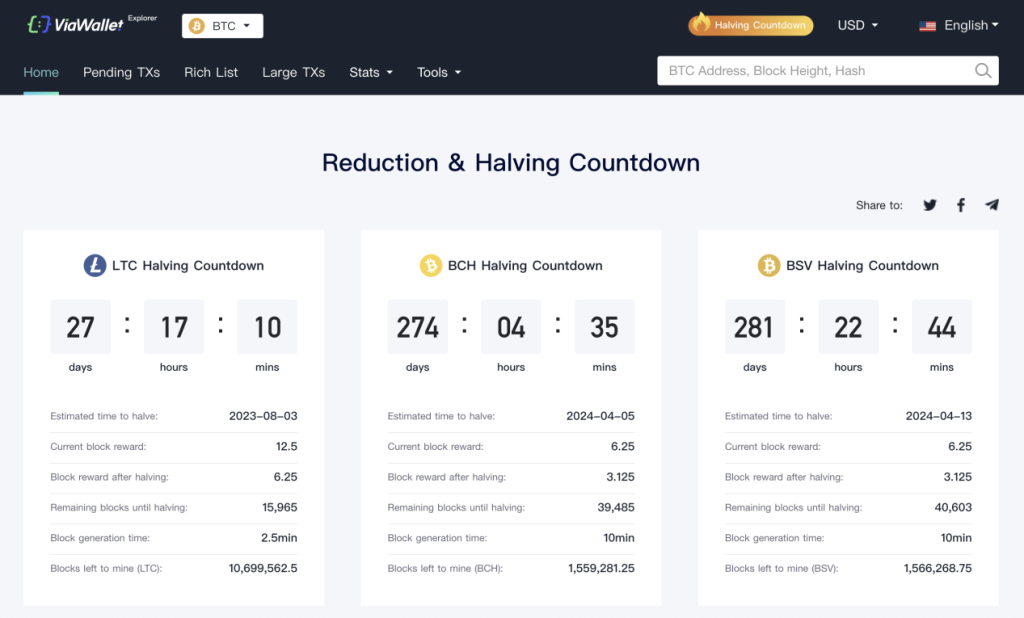 Meanwhile, on July 4, the LTC hashrate hit a new high at block height 2,503,485, reaching 1.03 PH/s. The stunning growth had to do with the third LTC halving, expected to occur in early August 2023, which is less than four weeks away.
Conclusion
Over the past 12 years, Litecoin has travelled a path full of twists and turns. However, through its commitment to perfection and innovation, the team consistently improved LTC's performance while expanding its use cases. As an alternative to Bitcoin, Litecoin provides valuable insights into crypto progress, as it adds to a more flexible, versatile selection of cryptos.
!function(f,b,e,v,n,t,s)
{if(f.fbq)return;n=f.fbq=function(){n.callMethod?
n.callMethod.apply(n,arguments):n.queue.push(arguments)};
if(!f._fbq)f._fbq=n;n.push=n;n.loaded=!0;n.version='2.0′;
n.queue=[];t=b.createElement(e);t.async=!0;
t.src=v;s=b.getElementsByTagName(e)[0];
s.parentNode.insertBefore(t,s)}(window,document,'script',
'
fbq('init', '887971145773722');
fbq('track', 'PageView');


Source link