Learn
What Can You Do in Decentraland's Metaverse?
Key Takeaways
The amount of activities and attractions in Decentraland is growing.
Attending virtual events, earning wearable items, and play-to-earn poker are among the activities drawing more players to the game.
Decentraland provides players with new ways to connect, engage with art, make money, and ultimately have fun.
Join Crypto Briefing as we explore the events, games, and attractions bringing players into the virtual world of Decentraland. 
What Is Decentraland? 
Decentraland is a 3D virtual world owned by its players. While the non-profit Decentraland Foundation oversees the game's development, what gets created is ultimately down to those who own land in the game. Players can buy and sell land NFTs using Decentraland's native currency, MANA. Once a player owns a land plot, they can start building on it, designing houses, bars, gardens, parks, or whatever else they can think of. 
Following Facebook's rebrand to Meta in October 2021, Metaverse games such as Decentraland and The Sandbox have soared both in value and popularity. Investors and users alike are hopeful these Metaverse-centric games will become giants in Web3, the next iteration of the Internet where users can own their online presence through decentralized blockchain technologies. 
Not to be left behind, dozens of brands and companies have flooded into Decentraland, acquiring land in highly sought-after locations to build out their Metaverse presence. JPMorgan recently opened a luxury lounge in MetaJuku Mall, crypto exchanges such as Kraken and Binance.US have established buildings, and Miller Lite has even created its own dive bar. However, besides soaking up all the brand advertisements or hanging out with your friends dressed as a polar bear, what can players actually do in the Decentraland?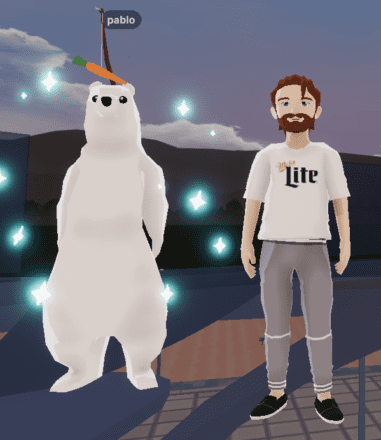 Attend In-Game Events
Many people first set foot into Decentraland to attend parties hosted there. Those who attend an event in Decentraland can expect live music, a claimable POAP, and even a free wearable NFT item for their avatar character. Some notable past events include a MetaMask party celebrating 10 million active users, Decentraland's second birthday party, and a Super Bowl LVI event held at Miller Lite's Metaverse dive bar. 
If you're just getting started in Decentraland, looking out for upcoming events like these can be a great place to start. You'll hopefully be able to grab some free swag for your avatar, which can be bought and sold for free on OpenSea's NFT marketplace. As these items are given away for free, don't expect them to be worth much initially. However, the items are usually limited to around 6,000, so a free item worth nothing right after the party can end up rising in value in the months after the event. 
You can keep an eye out for future events by following companies and projects that have hosted them in the past. Additionally, check the notice board in the Genesis plaza right before you when you first log into Decentraland. You can see a list of all ongoing and upcoming events with dates, times, and locations. 
Visit an Art Gallery
NFT art is becoming a major part of Web3 culture, and evidence of its importance can be found everywhere in Decentraland. Players can find various galleries around the map, including ones from established NFT art platforms such as Async Art and SuperRare. The world-renowned auction house Sotheby's also has a presence in Decentraland. 
There are also several player-made galleries featuring curated collections from notable NFT artists and collections such as XCOPY and Bored Ape Yacht Club, all the way to a gallery dedicated to rare Pepe the Frog memes. Check out locations in and around other major galleries such as the Crypto Valley Art Gallery and the SuperRare museum for new exhibitions. 
Besides offering a serving of crypto culture, these galleries can also yield rewards for players. For example, those who visited the Rarible gallery and claimed a POAP on Oct. 14 were eligible for a RARI token airdrop in December. Make sure to claim a POAP if one is offered at an art gallery event—it may pay off in the future as proof that you were an early patron. 
Earn Wearable Items
One of the biggest draws of Web3 gaming is the ability to truly own your in-game items, and Decentraland delivers on this with an ever-expanding pool of wearable items that players can earn, buy, and sell. 
One popular way to score some new threads in Decentraland is by playing crazy golf. Players can head over to GolfCraft and start earning gold coins in the game's training mode. Upon entering a game, you'll be teleported to a course complete with bounce pads, magnets, ramps, loops, and everything else you would expect from a normal round of crazy golf.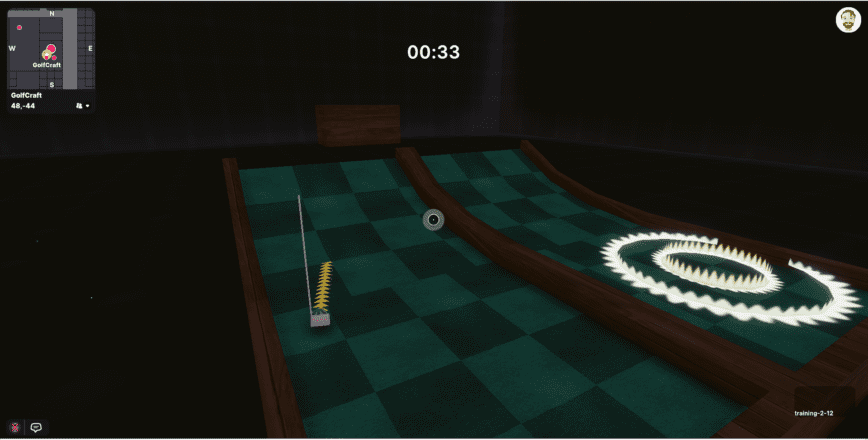 Once you've got the basics down, you can enter into competition games against other players for the cost of 20 gold coins. Those who finish the competition course in the least number of shots can win "fashion tickets," which can be redeemed for wearables in the GolfCraft shop. Be sure to check out the GolfCraft Twitter account to stay up-to-date with special events and competitions and the chance to win unique wearable items. 
If golf isn't your cup of tea, but you still want some new clothes for your avatar, head over to WonderMine, a meteor mining game where players can also earn in-game wearables. Compared to GolfCraft, WonderMine requires relatively little effort—all players need to do is click on the meteors that periodically fall from the sky to collect ores and gems. These resources can then be used to create more efficient pickaxes for mining or into wearable tokens needed to craft clothes. In addition to looking cool, the wearables obtained from WonderMine also give bonuses for mining meteors.
Tominoya Casino and ICE Poker
Another activity that has gained traction in Decentraland is gambling. The top left corner of Decentraland is called Vegas City and has become the unofficial gambling district. Vegas City is home to several casinos, poker lounges, and an upcoming hub for the Polygon-based horse racing game ZED.run. 
Tominoya Casino is one of several casinos operating through Decentral Games. Players can generate FREE tokens just by hanging out in the casino, which can be used to play roulette, blackjack, or slot machines. After collecting 5000 FREE tokens, players can buy into daily poker tournaments for the chance to win real cash prizes. 
In addition to the free poker tournaments, players can also gamble real money in Decentraland's casinos. The casinos accept several popular currencies, including DAI, MANA, ETH, and the Decentral Games token. 
However, another way to earn in Decentraland's casinos without gambling real money is by playing ICE Poker. To start playing, users need an ICE Poker wearable, which allows them to compete at the ICE Poker tables. By playing ICE Poker, players can earn ICE tokens with a real monetary value. More tokens are awarded to those who win, but smaller amounts of ICE are also distributed to everyone who competes. 
Because ICE Poker wearables let players generate ICE tokens, they command a high secondary market value. The cheapest wearables currently sell for about 2 ETH, roughly $5,600. Like other play-to-earn games such as Axie Infinity, a delegation system has formed around ICE Poker. Players who prove themselves good at poker but lack the funds to buy a wearable can rent one out from another player to start earning rewards on their behalf. The winnings are then split between the wearable owner and the player through the renting smart contract. 
What's Next for Decentraland? 
Decentraland is by no means a finished product; by its nature, it will be an ever-evolving amalgam of whatever its users decide to create. As such, many plots of land are still under development and occupy large areas with no buildings or attractions. However, that doesn't mean there aren't ample reasons to jump in and explore.
New projects, games, and attractions are popping up every week, drawing more people to Decentraland and getting them familiar with the ideals of Web3 and the Metaverse. While the user experience is still lacking in many areas, it seems clear that the popularity surrounding Decentraland goes beyond the hype. The game provides users with new ways to connect, engage with art, make money, and have fun. By getting familiar with the ins and outs of Decentraland early, players can give themselves an edge as Web3 and virtual worlds continue to expand and grow. 
Disclosure: At the time of writing this feature, the author owned ETH and several other cryptocurrencies.
Source link