METAVERSE
Binance and CEO Changpeng Zhao Face SEC Lawsuit, Triggering Red Tide in Crypto Market
The U.S. Securities and Exchange Commission (SEC) has sued Binance and its CEO Changpeng 'CZ' Zhao for allegedly breaking US securities rules.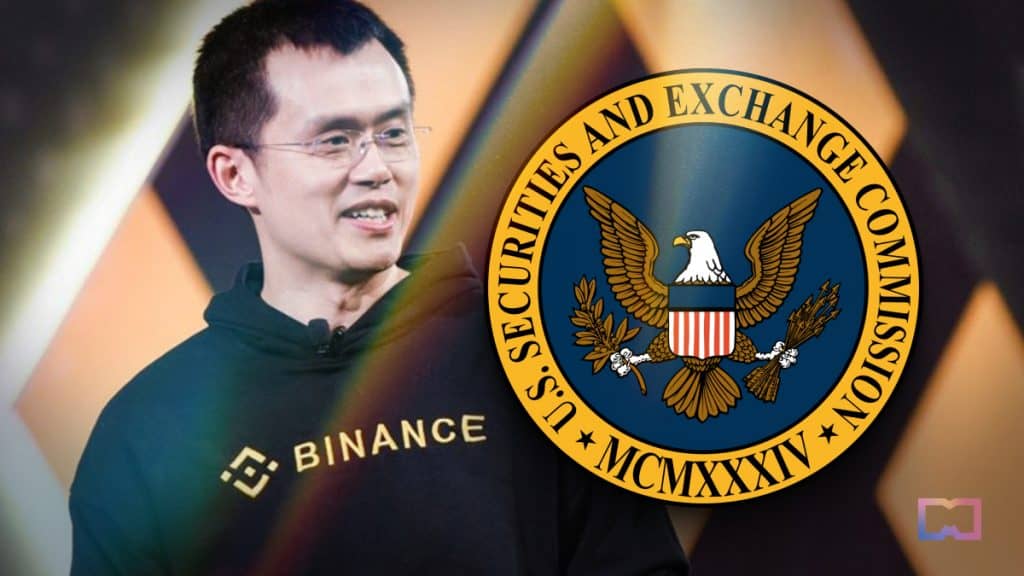 In the complaint filed in the US federal court on Monday, the SEC alleges that Binance and Zhao of flouting federal securities laws while the accused "enriched themselves by billions of dollars." 
According to the lawsuit, Binance.com and Binance.US allegedly provided unregistered trading platforms for crypto asset securities, while also participating in numerous unregistered offers and sales of crypto asset securities and various investment schemes. 
The lawsuit further alleges that Zhao unlawfully provided three securities market functions—exchange, broker-dealer, and clearing agency—on the Binance Platforms without registering with the SEC, despite being aware of the requirement. 
"Defendants' purposeful efforts to evade U.S. regulatory oversight while simultaneously providing securities-related services to U.S. customers put the safety of billions of dollars of U.S. investor capital at risk and at Binance's and Zhao's mercy. Lacking regulatory oversight, Defendants were free to and did transfer investors' crypto and fiat assets as Defendants pleased, at times commingling and diverting them in ways that properly registered brokers, dealers, exchanges, and clearing agencies would not have been able to do," the case stated. "For example, through accounts owned and controlled by Zhao and Binance, billions of U.S. dollars of customer funds from both Binance Platforms were commingled in an account held by a Zhao controlled entity (called Merit Peak Limited), which funds were subsequently transferred to a third party apparently in connection with the purchase and sale of crypto assets."
In a press release announcing the lawsuit, SEC Chair Gary Gensler said:
"Through thirteen charges, we allege that Zhao and Binance entities engaged in an extensive web of deception, conflicts of interest, lack of disclosure, and calculated evasion of the law."
The recently filed lawsuit by the SEC against Binance and Zhao comes on the heels of another legal action taken by the U.S. Commodity Futures Trading Commission (CFTC). The CFTC lawsuit also accused them of providing unregistered crypto derivatives and raised similar concerns to those presented in the new SEC case.
In response to the news, Zhao tweeted at 11.27am ET: "Our team is all standing by, ensuring systems are stable, including withdrawals and deposits. We will issue a response once we see the complaint. Haven't seen it yet. Media gets the info before we do."
Amidst the rapid dissemination of the lawsuit news, the crypto market is in red territory. Bitcoin witnessed a 5% decline, dropping to $25,827.05, while ETH experienced a 4.45% dip, reaching the current price of $1,814.10 at the time of writing. Memecoin Pepe saw a 14% decrease, while SUI, the native token of the layer-1 blockchain Sui, plummeted by 16%.
According to blockchain data platform Nansen and Coindesk, Binance witnessed a significant net outflow of approximately $69 million in the last hour.
Read More:
(function(d, s, id) {
var js, fjs = d.getElementsByTagName(s)[0];
if (d.getElementById(id)) return;
js = d.createElement(s);
js.id = id;
js.src = "//connect.facebook.net/en_US/sdk.js#xfbml=1&version=v2.5";
fjs.parentNode.insertBefore(js, fjs);
}(document, 'script', 'facebook-jssdk'));


Source link