METAVERSE
Blur's Lending Protocol Blend Commands 82% of NFT Lending Market Share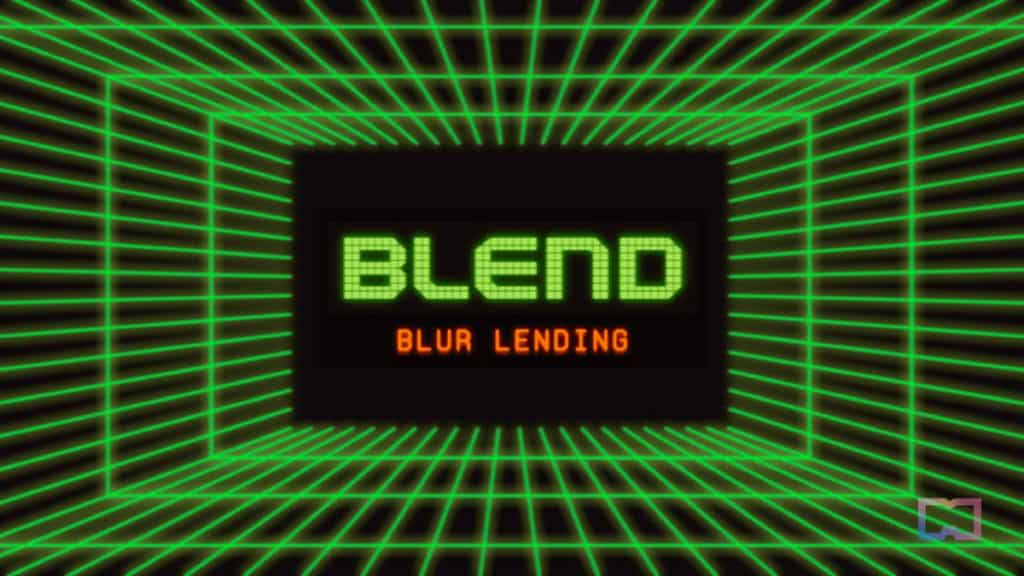 Since its launch on May 3, Blur's lending protocol Blend is currently leading the NFT lending market share with an 82% dominance, according to a new report by DappRadar. Blend is a peer-to-peer lending protocol built in partnership with VC firm, Paradigm.
Paradigm's whitepaper introduces Blend as a "peer-to-peer perpetual lending protocol that supports arbitrary collateral, including NFTs." This means that the collateral accepted by a lender can be any asset or form of value as long as it meets certain criteria set by the lender.
Currently, Blend supports loans backed by Miladys, Azukis, DeGods, and wrapped CryptoPunks, with lending support for CloneX announced on May 25.
Per DappRadar's report, Blend saw a loan volume of 169,900 ETH ($308 million) in 22 days. Blend's weekly loan volume even outperformed other centralized platforms by almost three times. Since its launch, Blend has secured 82% of the borrowing volume across all lending protocols.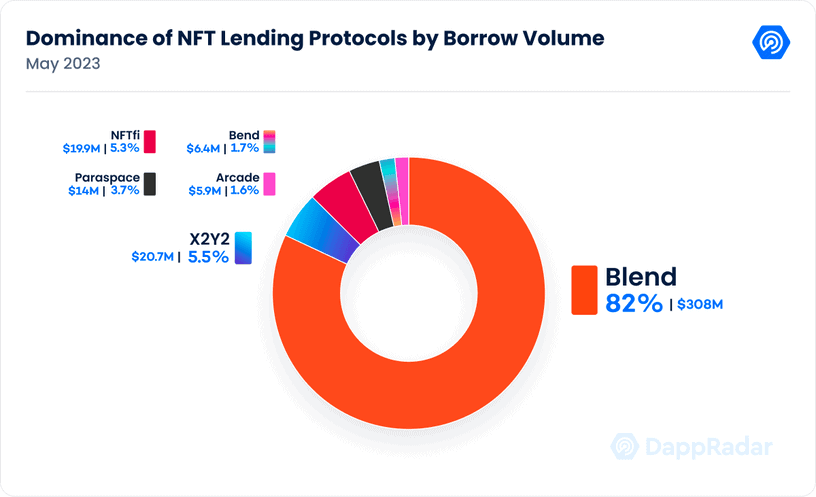 On the first day of its launch, Blend reached $5.21 million in Total Value Locked (TVL). In just three weeks, the TVL has grown 360% to almost $24 million. This, in turn, fueled the overall TVL of Blur, which which rose from $119 million to $146 million. However, $19 million of the $146 million has been wash traded in the past week.
Blend's success follows in the footsteps of Blur, which beat OpenSea in weekly trading volume shortly after launching in October last year, according to Dune Analytics data.
With Blur's trading volume over the past seven days at $104.35 million, a 15.93% decline from the preceding week, DappRadar suggests that the platform is shifting from trading to lending. In the last seven days, 46.20% of Blur's activity originated from NFT loans, transacted by an average of 306 unique daily users.
Blend's number of daily unique users has also been growing. The platform registered 218 users on its first day and saw the number increase to 358 by May 22. Blend's total loan volume over 22 days surpasses that of its competitors like NFTfi and BendDAO. Launched in 2020, NFTfi has facilitated a loan volume of $427 million, while BendDAO saw a total loan volume of $315 million since launching in April 2022.
Following Blend's success, Binance also announced its Ethereum NFT lending program as the crypto exchange seeks to compete in the NFT lending market.
Read more:
(function(d, s, id) {
var js, fjs = d.getElementsByTagName(s)[0];
if (d.getElementById(id)) return;
js = d.createElement(s);
js.id = id;
js.src = "//connect.facebook.net/en_US/sdk.js#xfbml=1&version=v2.5";
fjs.parentNode.insertBefore(js, fjs);
}(document, 'script', 'facebook-jssdk'));


Source link