METAVERSE
Character.AI Ignites AI Chat Revolution with 1.7 Million Installs in a Week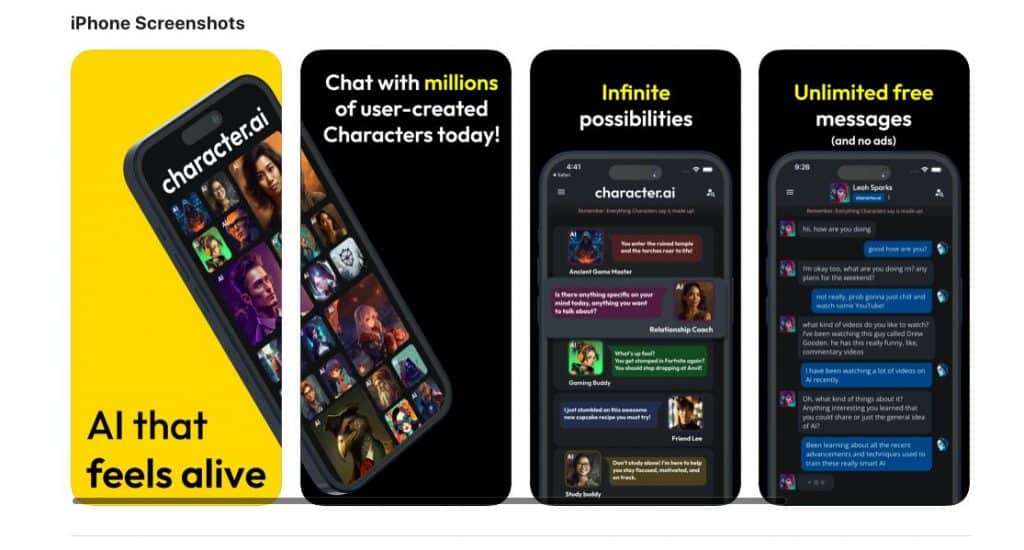 Character.AI is a new AI app that has caused a sensation in the market, securing over 1.7 million installs in under a week. Backed by a16z and valued at $1 billion, the app offers customizable AI companions with distinct personalities and the ability for users to create their own characters. The app was globally launched on May 23 on iOs and Android.
According to TechCrunch, Character.AI boasted impressive pre-launch metrics, with its web app receiving over 200 million monthly visits and users spending an average of 29 minutes per visit. Furthermore, Character.AI highlighted high user engagement, noting that once users send their first message to a character, the average time spent on the platform jumps to over 2 hours. The company stated that users have already created more than 10 million custom AI characters.
Visitors on the app can chat with characters individually or create interactive group conversations. As the app is still in beta, it encourages users to evaluate and refine the linguistic model by assessing the responses provided. The conversations are led by super-intelligent chatbots that can listen, understand, and remember.
Here are the main features according to the Character.AI description:
Users can interact with ultra-realistic AI personalities, immersing themselves in lifelike conversations.
The messaging experience is free from advertisements and limitations, providing unlimited communication.
An extensive collection of user-created characters allows for endless exploration and discovery.
Advanced creation tools empower users to unleash their creativity and design personalized AI assistants.
Built upon large language models (LLMs), Character.AI enables direct interactions with personalities inspired by living individuals like Elon Musk, Ariana Grande, Mark Zuckerberg, and Billie Eilish, as well as historical figures such as Napoleon Bonaparte and Queen Elizabeth, or anime and cartoon characters.
While the basic service of Character.AI is available free of charge, a premium version is also offered for a monthly fee of $9.99. Subscribing to the paid version grants users access to additional features, including priority access and faster response times.
Consumer demand for AI-powered mobile apps is on the rise, as evidenced by the success of OpenAI's ChatGPT mobile app. Within just six days of its launch, the app garnered over half a million downloads.
Read more:
(function(d, s, id) {
var js, fjs = d.getElementsByTagName(s)[0];
if (d.getElementById(id)) return;
js = d.createElement(s);
js.id = id;
js.src = "//connect.facebook.net/en_US/sdk.js#xfbml=1&version=v2.5";
fjs.parentNode.insertBefore(js, fjs);
}(document, 'script', 'facebook-jssdk'));


Source link