METAVERSE
CoinGecko launches GeckoTerminal to track all tokens on-chain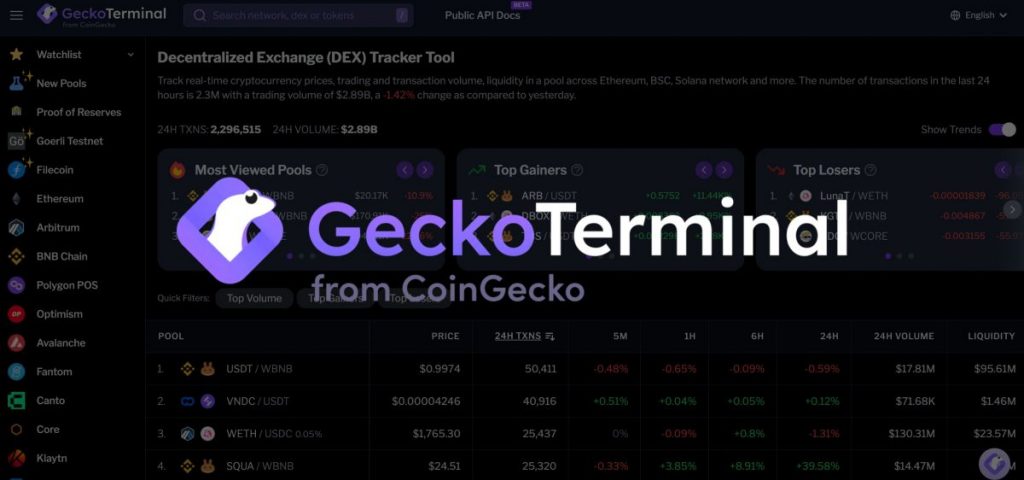 SINGAPORE, March 21, 2023 — CoinGecko, the world's largest independent cryptocurrency data aggregator, has launched GeckoTerminal to empower users with faster and more comprehensive data of all tokens traded on the blockchain.
GeckoTerminal is a real-time tracking tool for tokens trading on decentralized crypto exchanges (DEXs), where users can easily find information on prices, trading volume, liquidity and more.
This comes as the number of blockchains and tokens continue to grow rapidly. GeckoTerminal makes on-chain token data more accessible for everyone, from beginners who are starting to explore decentralized finance (DeFi), to traders who are looking for early opportunities.
As an up-and-coming player in the DEX tracking space, GeckoTerminal taps into CoinGecko's resources and strong foundation in cryptocurrency data. The DEX tracker also unlocks a better experience for existing CoinGecko users, who can now find far more tokens in one place, as well as benefit from more reliable and accurate prices.
GeckoTerminal currently tracks over 1.2 million tokens in 1.4 million trading pools, across 469 DEXs, or 110 times larger than the number of tokens tracked on CoinGecko.
"Adding GeckoTerminal to the CoinGecko stack is a big step forward for us. Our thesis has always been a future where everything that can be tokenized, will be tokenized. In a future with billions of tokens, we want to continue to help users make sense of the universe of crypto data,"

Bobby Ong, COO and co-founder of CoinGecko.
With 83 networks added, GeckoTerminal offers the widest coverage of both Ethereum Virtual Machine (EVM) and non-EVM chains. This includes Arbitrum, Optimism, Polygon and Avalanche, with an ongoing effort to onboard more networks.
Features that users might find most helpful on GeckoTerminal include developer-friendly API, interactive charting tool, watchlists and Proof of Reserves (PoR) monitoring.
Developers can now use the beta release of GeckoTerminal's public API to build on the same data, such as open-high-low-close (OHLC) data for creating their own charts and analysis.
Traders can use the interactive charting tool to perform technical analysis directly on GeckoTerminal, with useful resources conveniently available in the sidebar. Traders can also create multiple watchlists to organize different token categories according to their investment needs.
For traders conducting due diligence on any exchanges, the PoR feature provides an independent and up-to-date calculation of their cryptocurrency holdings based on on-chain data. GeckoTerminal currently tracks 20 centralized exchanges that have declared their wallet reserves addresses.
In addition, GeckoTerminal has partnered with other leading crypto analytics tools that users can leverage, including Bubblemaps, UNCX Network, Cyberscope and more. GeckoTerminal's data already powers projects such as KyberSwap, EtherDrops and GemPad.
(function(d, s, id) {
var js, fjs = d.getElementsByTagName(s)[0];
if (d.getElementById(id)) return;
js = d.createElement(s);
js.id = id;
js.src = "//connect.facebook.net/en_US/sdk.js#xfbml=1&version=v2.5";
fjs.parentNode.insertBefore(js, fjs);
}(document, 'script', 'facebook-jssdk'));


Source link