METAVERSE
NFA Labs Unveils AthenaGPT, AI-based Trading Model for DeFi
A new tool has appeared in the financial AI space: AthenaGPT from NFA Labs' research and experiment program. AthenaGPT combines neural networks and deep learning to revolutionize trading in emerging decentralized finance. NFA Labs is a project advancing DeFi with artificial intelligence and deep learning.
AthenaGPT promises to deliver a range of benefits to its users. It excels in efficient and intelligent cryptocurrency trading. Leveraging its AI capabilities, Athena conducts effective trades across many cryptocurrencies. Moreover, Athena's algorithms construct robust portfolios that promote consistent growth and deliver favorable returns. Finally, to manage risk effectively, it uses a combination of Alpha, Beta, and Gamma strategies to ensure investments are diversified and maintain a well-balanced risk profile for investors.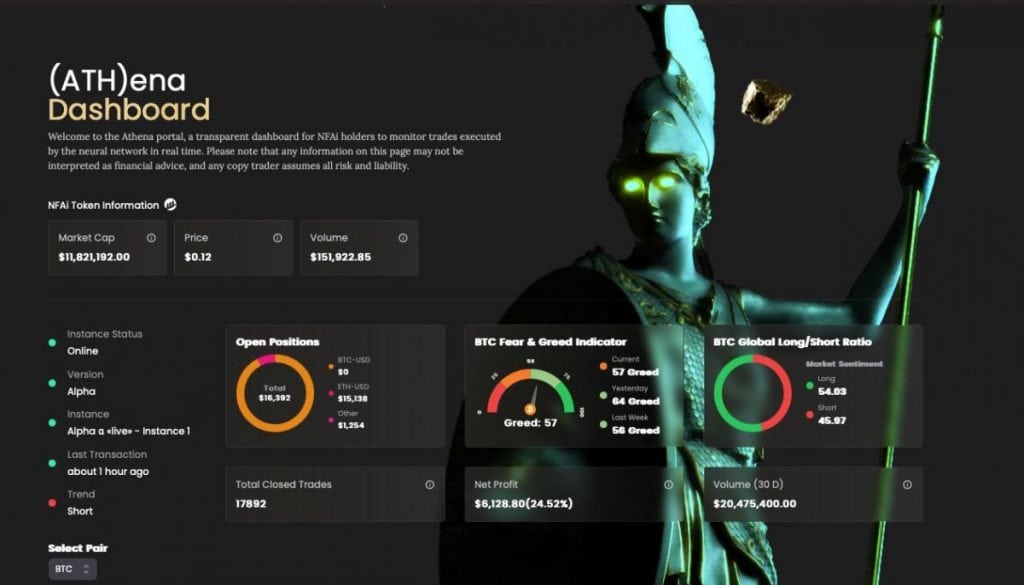 The three distinct neural strategies leverage different data types and algorithms to optimize trading performance and profitability.
The first strategy, Alpha, combines quantitative and qualitative inputs to analyze and exploit price movements. Alpha adopts an index-centric approach that can trade across unlimited tokens and exchanges. It learns and improves continuously, mimicking human decision-making without the limitations of fear, uncertainty, or doubt. Alpha is suitable for those who prefer a lower risk and lower leverage profile.
The second – Beta – is an economic weapons testing program that uses neural and deep learning-based AI to counter market manipulation by malicious centralized entities. Beta is adaptable and flexible, adjusting its risk and leverage levels according to market conditions. The strategy is suitable for investors seeking variable returns and willing to take medium to high leverage.
Gamma, the third strategy, is a refined deep-learning protocol designed to eliminate human error. It learns and evolves constantly to trade efficiently and ingeniously, 24/7, 365 days a year. Gamma is for investors who look for high-frequency trading with medium risk and variable leverage.
Read more:
(function(d, s, id) {
var js, fjs = d.getElementsByTagName(s)[0];
if (d.getElementById(id)) return;
js = d.createElement(s);
js.id = id;
js.src = "//connect.facebook.net/en_US/sdk.js#xfbml=1&version=v2.5";
fjs.parentNode.insertBefore(js, fjs);
}(document, 'script', 'facebook-jssdk'));


Source link