METAVERSE
OpenAI CEO Explores AI Enthusiasm in India and South Korea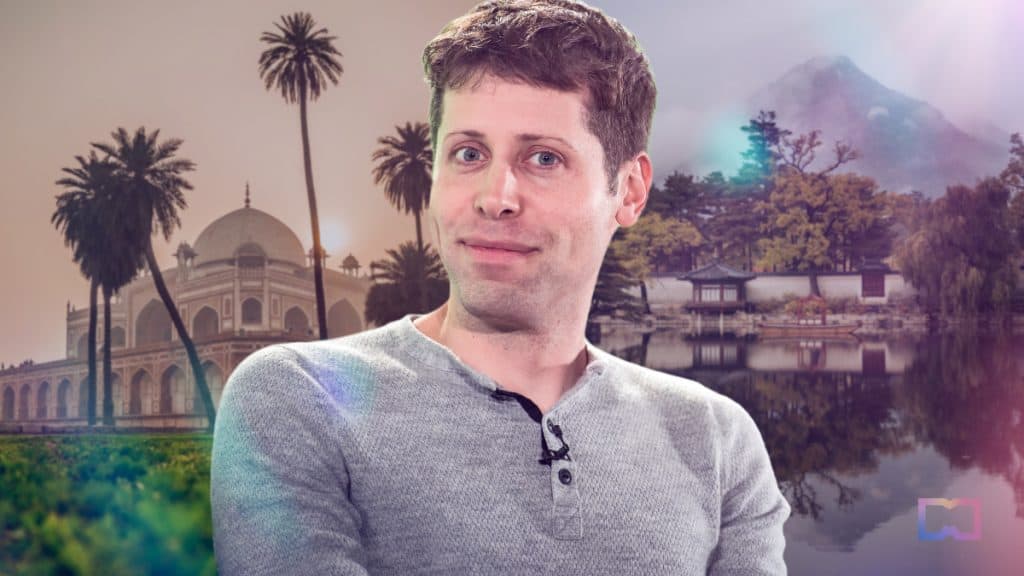 OpenAI CEO Sam Altman met the prime minister of India, Narendra Modi, on June 8. Altman remarked that Modi exhibited a strong passion for AI. The meeting carried importance because India is currently working on regulating AI through the forthcoming Digital Indian Bill, which would replace the existing Information Technology (IT) Act.
"India has been a country that has truly embraced ChatGPT. There has been a lot of early adoption and real enthusiasm from the users,"

Altman said.
According to Economic Times India, Altman stated that Generative AI is a hot topic in the tech world, especially in Silicon Valley, where investors are eager to fund startups that use this technology to create new content. However, not everyone is optimistic about the short-term prospects of generative AI. Altman said there is "too much of frenzy around AI in the short term." He believes generative AI is "very under-hyped in the long term," implying that its true potential and impact are yet to be realized.
One of the possible impacts of generative AI is its effect on the labor market. Some people fear generative AI will replace human workers in various fields, such as writing, coding, design, and art. However, Altman argued that humans have always adapted to technological changes over time. He said, "in two generations, we can kind of adapt to any amount of labor market change and there are new jobs and they are usually better." He suggested generative AI will create new opportunities and challenges for humans rather than eliminate them.
OpenAI's CEO also expressed his views on the regulation and ethics of AI and said that he doesn't support any regulation on smaller companies in AI. He believes the world can come together to address the existential risk of AI and that if the governments cannot do it, they will ask the companies to do it.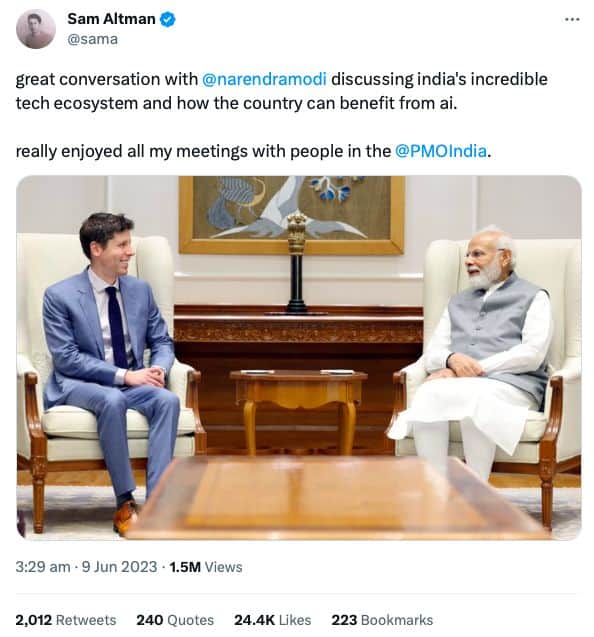 Today Altman Meets Korean President and Startups
As a part of a global tour to promote and discuss the future of AI, Sam Altman is visiting South Korea, where he met with President Yoon Suk Yeol and about 100 local startups on June 9. According to Reuters, South Korea is one of the few countries that has its own AI foundation models and is eager to boost its domestic AI industry. 
South Korea's AI law draft, which awaits full parliament approval, guarantees freedom to launch AI products and services unless they are found to harm people's lives, safety, and rights by regulators.
"People are focused on not stifling innovation, and that any regulatory framework has got to make sure that the benefits of this technology come to the world,"

Altman said.
Besides India and South Korea, this week Altman visited Israel, Jordan, Qatar, and the United Arab Emirates.
Read more:
(function(d, s, id) {
var js, fjs = d.getElementsByTagName(s)[0];
if (d.getElementById(id)) return;
js = d.createElement(s);
js.id = id;
js.src = "//connect.facebook.net/en_US/sdk.js#xfbml=1&version=v2.5";
fjs.parentNode.insertBefore(js, fjs);
}(document, 'script', 'facebook-jssdk'));


Source link