METAVERSE
Tommy Hilfiger Launches Multi-Metaverse Hub with Emperia for the Metaverse Fashion Week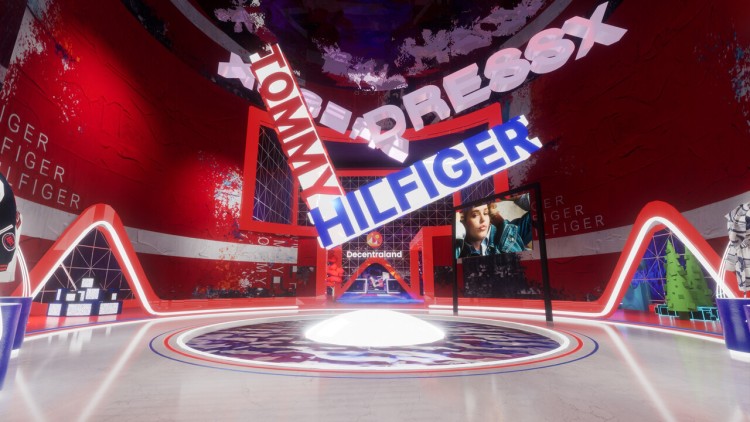 Tommy Hilfiger, a premium lifestyle brand, has launched a new cross-metaverse virtual hub in partnership with 3D technology and VR platform provider Emperia. This move is part of the retailer's effort to achieve interoperability during the Metaverse Fashion Week 2023.
The hub combines key metaverse destinations, such as Decentraland, Roblox, Spatial, DressX, and Ready Player Me. From March 28 to 31, Tommy Hilfiger will open a space within Decentraland that will connect to all these other platforms, allowing users to access the brand across different platforms.
The Tommy Hilfiger hub's design resembles the brand's TH monogram and offers consumers a range of digital experiences. These include the opportunity to collect POAPs and other NFTs, access DressX-powered digital fashion, view artwork by Web3 artist Vinnie Hager, try on virtual outfits through AR technology, participate in an AI fashion creation competition judged by Tommy Hilfiger, and take photos in a photo booth. Visitors can also use the hub as a central location to access and explore the different metaverses.
The virtual hub enhances the product experience by providing four unique items, with the iconic Varsity Jacket as the centerpiece, displayed in different aesthetic forms across all platforms. The jacket is available in two versions: physical, linked to Tommy Hilfiger's e-commerce platform, and digital, related to the DressX digital fashion platform. Customers can purchase the physical jacket through the Emperia hub, while the digital version is available through the Ready Player Me platform and can be used in multiple games and environments, expanding interoperability options.
Tommy Hilfiger participated in the last year's Metaverse Fashion Week, which was also hosted by Decentraland. In partnership with Boson Protocol, the brand created a virtual shopping experience in the Boson Portal – Fashion District of Decentraland. The store featured 3D renders of classic styles, with redeemable NFTs exchangeable for physical items.
Read more:
(function(d, s, id) {
var js, fjs = d.getElementsByTagName(s)[0];
if (d.getElementById(id)) return;
js = d.createElement(s);
js.id = id;
js.src = "//connect.facebook.net/en_US/sdk.js#xfbml=1&version=v2.5";
fjs.parentNode.insertBefore(js, fjs);
}(document, 'script', 'facebook-jssdk'));


Source link