METAVERSE
Twitter to add Verification Requirement for "For You" Recommendations to fight Bots.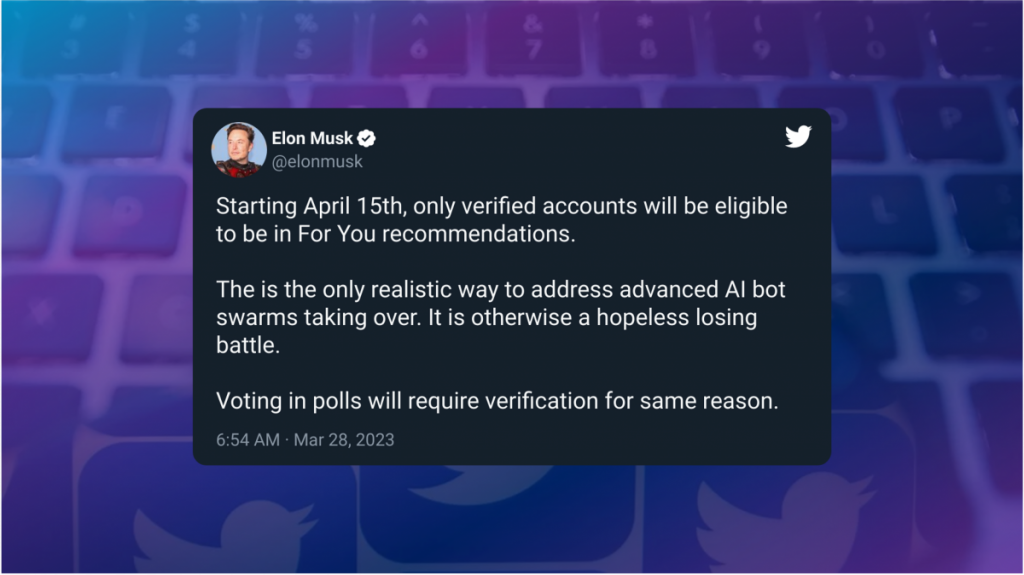 Elon Musk Announces Verification Requirement for "For You" Recommendations on Twitter to fight Bots.
In his recent tweet, Elon Musk, CEO of Tesla and SpaceX, announced a significant change to Twitter's "For You" recommendations feature, stating that only verified accounts will be eligible for inclusion starting April 15th. This move is aimed at addressing the growing issue of advanced AI bot swarms taking over the platform and manipulating content visibility.
Musk explained that it had become a "hopeless losing battle" against these bot swarms, and requiring verification for both recommendations and voting in polls is the only realistic solution. The blue checkmark, which symbolizes verification, will be essential for users to ensure their content is visible to a broader audience.
Musk added that verified bot accounts would still be allowed on the platform.
In comments, users are divided into two camps: those in favor of the decision and those against it.
Supporters of the decision believe this change will significantly improve the platform's user experience by minimizing the influence of bots and fake accounts. Increasing transparency and credibility of the circulated content.
On the other hand, critics argue that the verification requirement could lead to potential bias and exclusivity on the platform. They express concerns that smaller accounts or users from marginalized communities may face challenges in obtaining verification, thus limiting their visibility and engagement on Twitter. On top of that, the verification process itself raises is not ideal, with the "payment" appearing to be the only mechanic, perceived by some users just as another way to milk the audience and increase Twitter's revenue.
It remains yet to be seen how the proposed changes will impact the Twitter ecosystem, specifically within the crypto and Web3 community. With the deadline approaching, users and projects in the space might be forced to adapt and seek verification for their accounts to maintain their presence on the platform.
(function(d, s, id) {
var js, fjs = d.getElementsByTagName(s)[0];
if (d.getElementById(id)) return;
js = d.createElement(s);
js.id = id;
js.src = "//connect.facebook.net/en_US/sdk.js#xfbml=1&version=v2.5";
fjs.parentNode.insertBefore(js, fjs);
}(document, 'script', 'facebook-jssdk'));


Source link