METAVERSE
Unveiling the Latest Announcements From Meta Quest Gaming Showcase 2023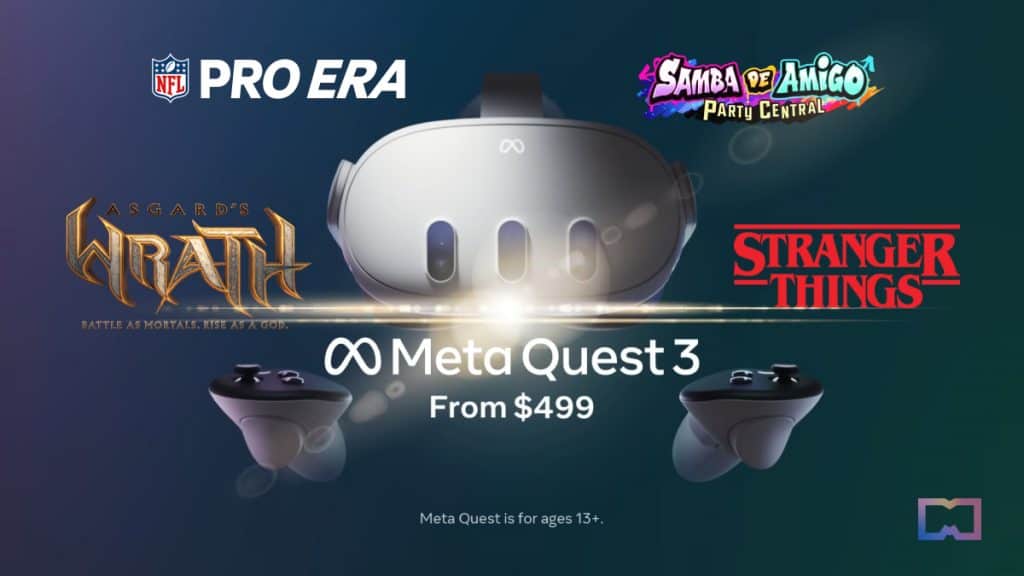 The Meta Quest Gaming Showcase for 2023 has just concluded, featuring over two dozen games in both the main show and pre-show. The standout moment of the event was the unveiling of the Meta Quest 3 – a cutting-edge mixed-reality headset that represents the next generation in immersive gaming technology.
Among the highlights was the announcement of Asgard's Wrath 2, "the biggest and most immersive game to ever come from Oculus Studios." The game takes players on a journey through time and space, including Ancient Egypt, to pursue Loki. The game features a vast environment called the Great Sand Sea and offers over 60 hours of gameplay.
Meta introduced a VR version of Samba de Amigo coming out in the fall. The game was originally released in arcades in 1999 and became popular on the Sega Dreamcast a year later. The new VR version allows players to dance with their monkey friend Amigo to hit songs from various genres.
In the showcase, Andrew "Hawk" Hawkins discussed the future of NFL PRO ERA, a VR football sim revealed at last year's event. Since its launch, players have completed over three million NFL seasons and unlocked over nine million trophies. Hawkins, the StatusPRO president and co-founder, announced this year the next evolution of the game. The new version will feature an expanded focus on multiplayer, new modes, and features.
Netflix and Tender Claws are bringing the hit series Stranger Things to VR. In the game, players take on the role of Vecna, the embodiment of evil, and invade people's minds in the Upside Down to take revenge on Eleven and her friends. The game will release this winter and is available for pre-order on the Meta Quest Store.
Meta also revealed Bulletstorm and The 7th Guest, as well as a new Vampire: The Masquerade game, and confirmed that Assassin's Creed Nexus VR was coming to the Meta Quest store. All revealed games will be compatible with Quest 2, Quest Pro, and Quest 3.
For other game announcements, check Meta's blog post.
Read more:
(function(d, s, id) {
var js, fjs = d.getElementsByTagName(s)[0];
if (d.getElementById(id)) return;
js = d.createElement(s);
js.id = id;
js.src = "//connect.facebook.net/en_US/sdk.js#xfbml=1&version=v2.5";
fjs.parentNode.insertBefore(js, fjs);
}(document, 'script', 'facebook-jssdk'));


Source link