News
Alleged Fund Freeze by Changelly, Wyre Hints at Ledger's Liquidity
While the crypto sector is still recovering from the FTX collapse, crypto influencer 0xSea.eth hinted at a liquidity crisis in a Twitter thread.
0xSea.eth took to Twitter to claim that Changelly has frozen $3 million in user funds after Wyre also held back a large withdrawal. The core developer questioned the reliability of centralized exchanges and crypto wallets by citing withdrawal issues of a user. He claimed that user K who tried to swap USDT with USDC on Nov. 11, is unable to withdraw $2,932,345 even after a month.
Large Transactions Allegedly Frozen
Sharing screenshots, 0xSea.eth alleges that K's swap wasn't executed despite the platform indicating "transaction broadcast successful." As per the translated claims, customer service prompted the user to complete KYC after the issue was raised.
According to Ledger's website, its swapping partners include Changelly, Wyre, ParaSwap, and 1inch. Notably, Changelly claims non-custodial instant cryptocurrency exchange on its platform. But, 0xSea.eth stated, "Changelly first received #USDT before asking K to open an account and pass KYC. K cooperated to complete all the steps. "
Despite providing evidence of the source of funds, 0xSea.eth assert that the funds have been under review by the platform. However, Changelly reportedly stopped responding shortly after.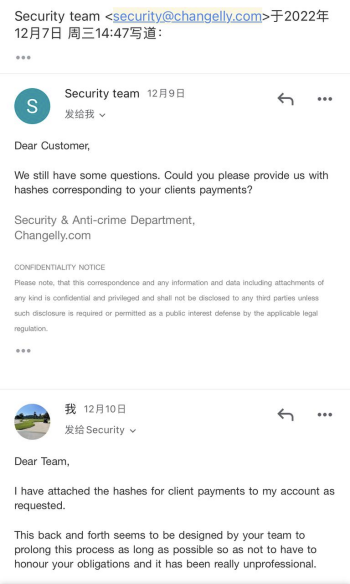 Meanwhile, the crypto influencer claims that Ledger still needs to resolve the issue, underlining foul play. He noted, "After a simple search of the platform, Changelly appears to be a "recidivist." Circling more discussions by Reddit users and reviews on Trust Pilot, 0xSea.eth claims that K's frozen assets are not an isolated incident.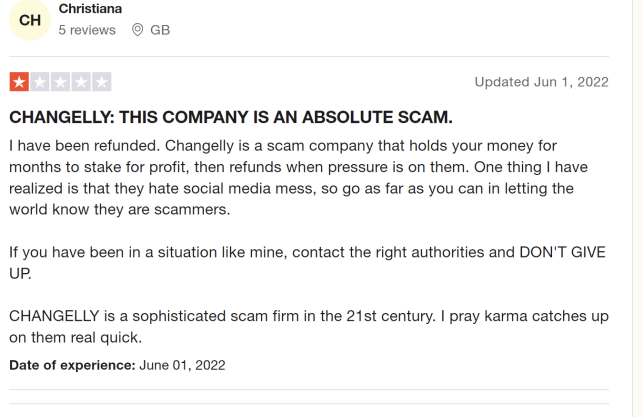 If the accusations are proven, it could mean more liquidity trouble for the crypto sector after the FTX collapse.
Not an Isolated Incident
Twitter user KAI claimed in a separate thread from Nov. that a similar issue occurred with Wyre. While the platform executed small-value transactions within three minutes, the user claimed that Ledger was possibly defrauding money in large transactions. Especially when the transaction history of Ledger and Wyre is not consolidated, the user argued. 
Notably, the user had also stated that it could not be claimed that Ledger or Wyre acted out maliciously. As per the last update, Ledger's intervention partially resolved the user's issue.
That said, BeInCrypto has reached out to some of these users and the platforms to verify these accusations. The article will be updated accordingly.
Meanwhile, a trust pilot user speculates this to be Changelly's business model, as shared by 0xSea.eth. A model where the platform seizes customer funds and lends them out to earn interest by taking advantage of the time difference. Meanwhile, 0xSea.eth claims that K might resort to help from the Hong Kong police to recover the funds.
In response, Ledger support commented on the thread that it would assist the user with the concern.  
Disclaimer
BeInCrypto has reached out to company or individual involved in the story to get an official statement about the recent developments, but it has yet to hear back.