News
Bulls Could Be Back For Solana If It Is Above This Level
Solana price has displayed a completely bearish price thesis on the one-day chart. In that same timeframe, the coin declined by close to 9%. The depreciation in value might continue as the technical outlook points in the same direction.
With the recent Solana Protocol Raydium hack of over $2 million, the price of the coin has been affected further. Over the past week, the coin has shed nearly 10% of its value. As SOL fell from its long-standing support line of $13, the coin has been on a freefall. Demand for the altcoin has remained substantially low, with investor interest fading away.
Investors have to be cautious as SOL continues to depict increased volatility over the past few weeks. For the bulls to return to the market, there are two important price levels that Solana has to breach. Trading volume in SOL declined, which is noted in the case of bearish price action.
As volatility remains high, a further push from the sellers will push SOL below its immediate support line. The market capitalization of SOL depreciated, an indication that the coin is under bearish influence.
Solana Price Analysis: One-Day Chart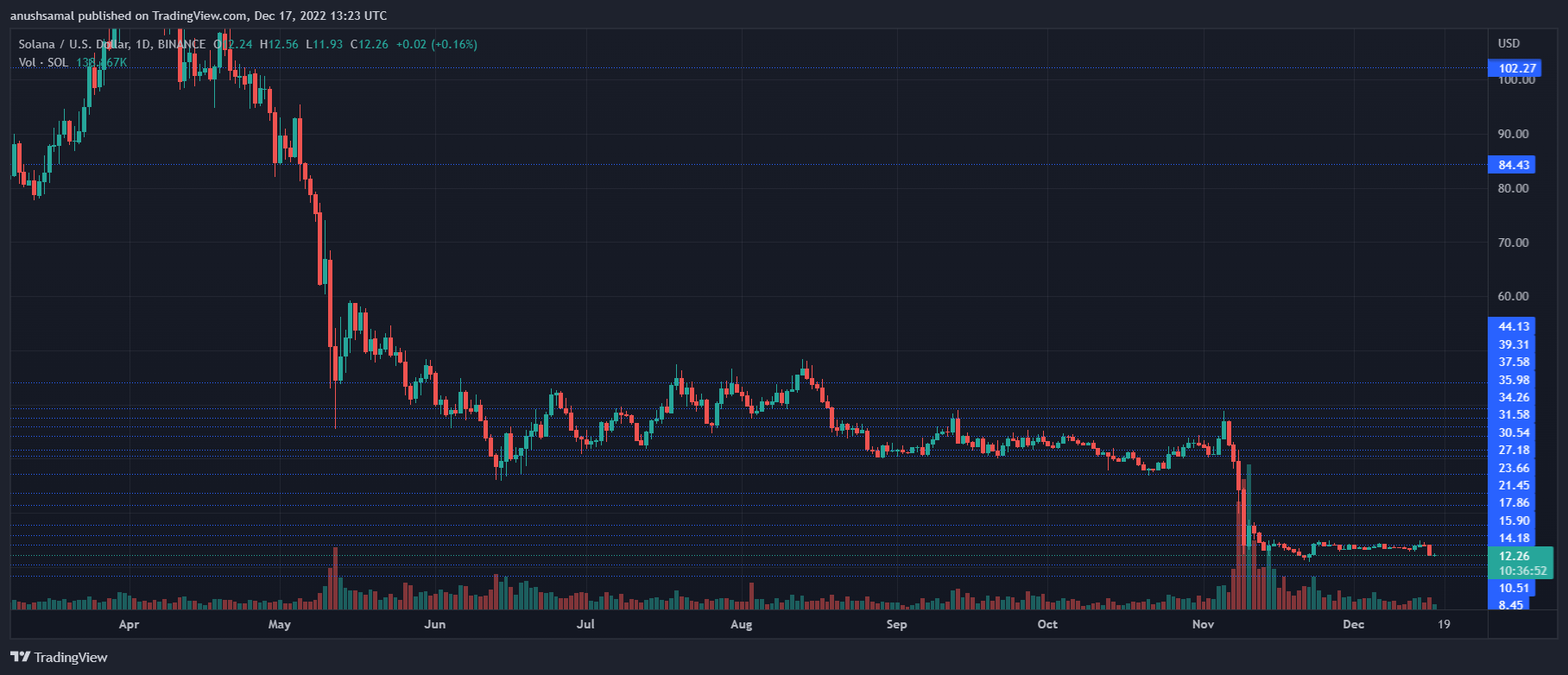 SOL was auctioning at $12.26 at the time of writing. The Solana price broke off its consolidation when it fell below the $13 support line. For the bulls to be back, Solana has to turn the $13 price level into a support line again. Before doing that, the coin has to move past the $12.50 price mark.
As the coin continues to register less demand, a further fall in value is on the chart. In that case, Solana will begin bidding at $11, then at $10.40. This will mean another 17% fall for the coin before it starts to note a price reversal. The amount of Solana traded in the last session declined, and that was a sign of bearishness on that chart.
Technical Analysis

Over the last few weeks, the altcoin was trying to capture buyers, but the price did not align with the bulls. The Relative Strength Index was below the 40-mark, close to the oversold and undervalued region.
Usually, after this phenomenon, the coin attempts to reverse its value. In relation to buyers, the Solana price was below the 20-Simple Moving Average line, depicting slow demand for the altcoin. It meant that the bears were driving the price momentum in the market.

According to the depiction of volatility, the technical indicators have sided with the idea of an explosive price action. The Bollinger Bands, which indicate price fluctuation and volatility, narrowed and were constricted, indicating that SOL was expecting a breakout.
The Moving Average Convergence Divergence depicts price momentum and change. The indicator painted a red signal bar, which was tied to the sell signal for Solana price.
Source link