News
Community Fears DCG is Selling as Altcoin's Values Tank
The crypto market experienced a massive sell-off in the last 24 hours. Several assets related to Digital Currency Group (DCG) Grayscale's investment products, like NEAR, Filecoin, Ethereum Classic, etc., shed an average of over 10%, prompting fears that the firm was selling.
According to Coingecko, the crypto market fell by 5.4% over the reporting to $838 billion. Data from Coinglass showed that $237.86 million was liquidated from the industry. Bitcoin declined by 4.3% to $16,710, while Ethereum saw 7.6% losses to trade at $1,180 as of press time.
Altcoin's Value Falter
In the last 24 hours, several DCG-related assets, like Filecoin, Near, Ethereum Classic, Litecoin, Bitcoin Cash, etc., all saw losses. Binance-backed coins like BNB, Trust Wallet Token, etc., also saw substantial red candles. Other altcoins like Algorand, Cardano, Chainlink, Avalanche, and Solana saw their values plummet rapidly during the sell-off.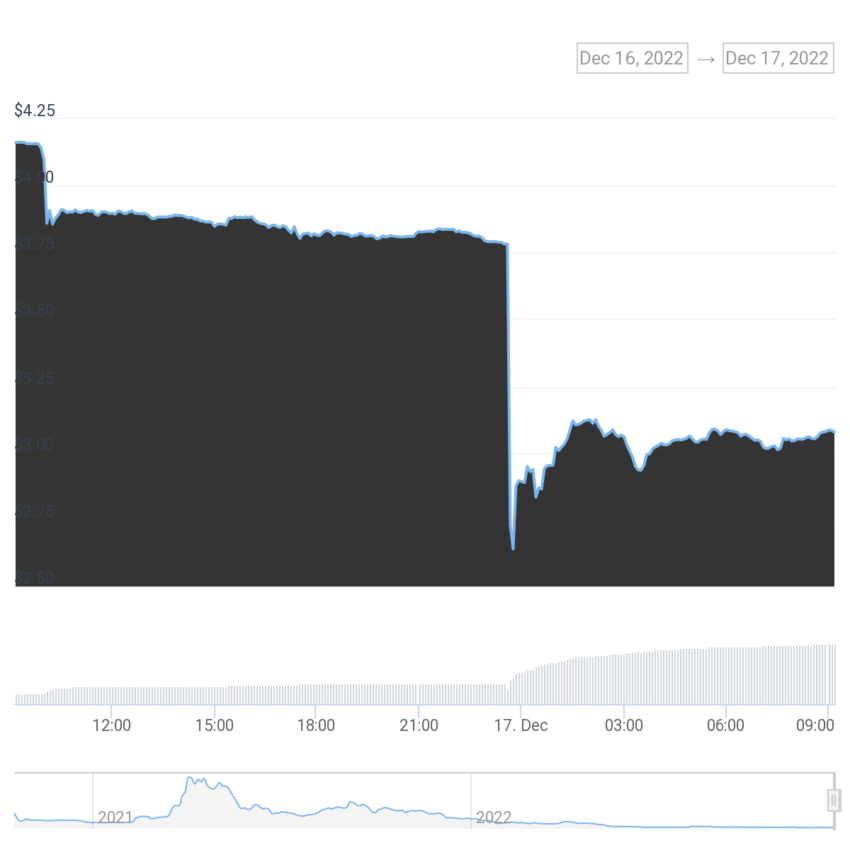 While it was unclear why the assets experienced a sudden sell-off during the period, the crypto market just experienced one of its most turbulent weeks in recent memories.
FTX founder Sam Bankman-Fried was arrested in the Bahamas on the orders of the United States government. SBF was later denied bail because he was considered a flight risk.
The largest crypto exchange in the space, Binance, also experienced a surge in withdrawals following increased fears over its reserves. BeinCrypto reported that the exchange experienced around $5 billion in withdrawals during the height of the run.
Crypto Community Speculates DCG is Selling
Meanwhile, several crypto analysts have speculated that the current sell-off could be from Grayscale's parent company, Digital Currency Group (DCG).
The co-founder of Reflexivity Research, Will Clemente, tweeted that many speculators wonder whether the selling was derived from DCG itself. He added images of the price performance of some of these altcoins to buttress his point.
Crypto analyst Miles Deutscher opined that there was a strong likelihood that DCG was dumping. According to him, "bad news likely to come."
Another analyst, Karl, said he "would not be surprised if this sell-off is a desperate attempt to liquidate what else they can before announcing bankruptcy soon."
Community concerns over DCG's financial status have grown following recent events in the space. Its crypto lending firm Genesis recently halted customer withdrawals following FTX's collapse.

Meanwhile, the investment firm also revealed that it has a $2 billion liability, most of which is owed to Genesis. The fears have been further heightened over the increasing discount Grayscale's Bitcoin Trust (GBTC) shares have been trading.
Disclaimer
BeInCrypto has reached out to company or individual involved in the story to get an official statement about the recent developments, but it has yet to hear back.